The success of big and small businesses will definitely depend on how well they manage their online operations. More people are interested in using the internet to look for products or services, compare them, evaluate the authenticity and value of what they buy and ultimately make a purchase. Moreover, the different payment methods make the whole process easier and more convenient.
If you are not already working on your website or online business strategy then you are definitely falling behind. This is why it is now better than later that you should hire the services of a qualified SEO specialist to help you with setting things right.
What is the Difference Between SEO and SEM?
Online marketing created the need for new words and vocabulary that marketers use on a daily basis. This might sound a little bit confusing to business owners, although these acronyms represent all that they need to succeed.
SEO and SEM are meant to maximize your reach and grant you more organic traffic that will help establish your online business. The two terms are sometimes used interchangeably, although they refer to two different things.
SEM or Search Engine Marketing is a broad term. It is used to refer to both paid and organic tactics that are meant to drive more customers to your website. SEO or Search Engine Optimization refers to the process of getting organic, free and naturally driven traffic that you as a business owner didn't have to pay for. Because the terms are rather confusing, SEM is mainly used to refer to sponsored and paid ads that will make your website appear as a suggestion at the top of search engine results. On the other hand, SEO will help with improving your ranking using the strategic use of keywords and creating valuable content so that the search engine will view your website as an authority website.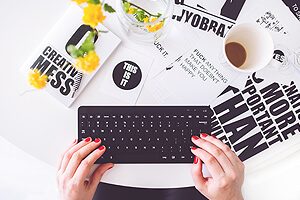 SEM:
Paying for advertisement will grant you more visibility. Most companies or websites will consider Pay-Per-Click ads or Cost-Per-Click ads to have access to more viewers and potential customers. When your potential customers type relevant keywords in the search bar of Google, your website will appear high above the other organic listings. This guarantees that you will have more visibility and more people will check your landing pages, blog articles and everything else that you are posting on your website.
In order to manage your SEM, you will have to monitor the planning and execution of your ads strategy. You will have to make sure that your ads are targeted to your potential customers, based on geography, demographics or any other criteria. Your ad groups should contain different sets of keywords variations and you should also keep an eye on the budget of your campaign and the revenues that you gain.
Managing your SEM is not something that you should do on your own. A qualified SEO and SEM specialist in Tampa will help you set the adequate budget keep an eye on the monitoring metrics, thus ensuring that you are spending your money in the right direction.
SEO:
SEO is currently one of the best marketing strategies that can help boost your online business and revenues. The rules of SEO are always changing to keep up with the ever-changing algorithmic of Google, but generally speaking a successful SEO strategy is divided into on-site and off-site tactics that are meant to generate more visibility, exposure and drive more potential customers.
On-page SEO will focus on the value of your content. You should make sure that you are offering informative articles and blogs to your potential customers based on the keywords that they will most likely use to search for your products or services. An SEO expert in Tampa will study and evaluate the needs of your potential customers and then come up with a relevant list of keywords that should be strategically used in your website content. This will include the Meta description and the images or videos you post on the website.
Off-page SEO focuses on the performance of your content away from your website. Links building is crucial to make sure that you gain more visibility. When you are focusing on attracting backlinks, more bloggers and business owners will be interested in cooperating with you. This grants you more visibility on their websites. You should also focus on your shareable content. When your content is valuable and useful, more people are going to share it to other social media platforms where more people are going to see, view and appreciate it. This will encourage them to check your website which creates and builds customers' loyalty.
SEO success is gradual but guaranteed. By optimizing your content, focusing on your customers' needs and making sure that you are offering something valuable and informative, you will gain more backlinks to your content. You will also find that your website has been shared various times on different social media platforms.
What is More Important; SEO or SEM?
This question is difficult to answer. They are directly related although you can work on your SEO without considering SEM. For your SEM to succeed, you should have original and informative content that will attract your potential customers. Your landing pages and blog content should be attractive enough even if you are paying for ads, otherwise, your potential customers will leave your website without making a purchase or sharing your content.
SEM is a good solution if you are launching a new website in a highly competitive niche. It will grant you some immediate visibility but you would still have to make sure that you are offering something useful and attractive.
SEO is less costly and is more adaptive. You can choose to invest in SEO and take it from there as you work on building your website content and authority in the highly competitive market.
You can start with a paid PPC or CPC campaign then focus on gaining organic traffic by optimizing your content. Both marketing strategies should work together to help you build your online presence.